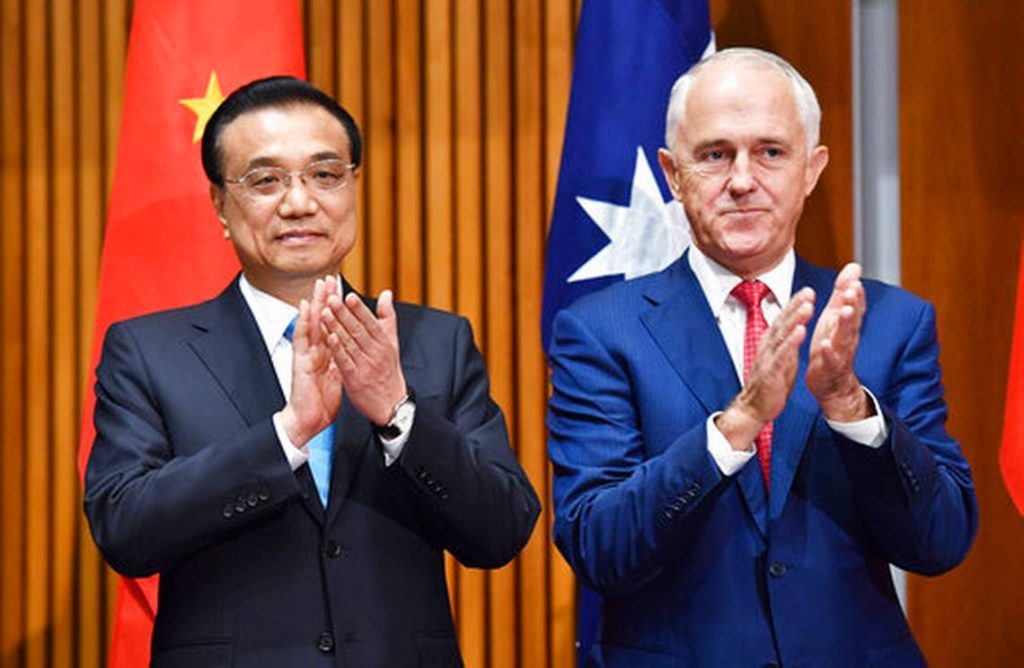 "I just checked with the waiter whether we are having beef today. The answer is no. Only chicken will be served," said smiling Li, when addressing more than 400 lawmakers, businessmen and other people at a luncheon hosted by his Australian counterpart Malcolm Turnbull on Thursday.
The audience responded with amused laugh and warm applause.
"Naturally I have come here not just for beef or chicken, but for many more areas of exchanges and cooperation we should pursue," Li continued. "First, I have come for free trade."
With the anecdote, Li highlighted the purpose of his visit to promote free trade and investment as well as overall China-Australian relations after 45 years of diplomatic ties.
Li, accompanied by his wife Cheng Hong and senior Chinese officials, arrived in Canberra on Wednesday for a five-day official visit, the first to the Oceanian country by a Chinese premier in 11 years.
The two nations have highly complementary economies. China is the largest trading partner and a major source of foreign tourists and students for Australia. The two countries lifted their ties to a comprehensive strategic partnership during Chinese President Xi Jinping's visit to Australia in 2014.
The message is encouraging. Australian beef exporters have high hopes for what they will benefit from the visit.
In Thursday's lunch address at Parliament House in Canberra, the Chinese premier pledged that China stood ready to increase the import of competitive products from Australia and might well start with importing chilled beef for the first time.
On Friday, Li held the fifth annual meeting with Turnbull. The two leaders witnessed the signing of a series of cooperation agreements in trade, innovation, agriculture, food, law enforcement, tourism and education.
Li cited several examples in his speech to show China's willingness to advance bilateral relations and jointly push economic globalization.
"Yesterday when my wife and I were flying to Australia, we saw lightening on both sides of the plane when it flew through the clouds. Yet, we kept going forward," Li said at the start of the lunch speech.
He then emphasized China's firm conviction in the strong, sustained momentum of the China-Australia relations and moving forward bilateral friendship.
Knowing well about China's history, Turnbull mentioned ancient Chinese navigator Zheng He in his speech. Li then drew the same example of Zheng to show China's commitment to the path of peaceful development.
"The sole mission of his seven voyages into the western oceans was to promote peace and friendship," said Li.
China is willing to work with Australia and other relevant countries to maintain regional peace and stability and promote common prosperity, he said.
On China's foreign policy, Li said "China does not want to see the practice of picking sides, which smacks of the Cold War mentality." He said the issues that have arisen can be handled according to existing rules and consensus in political, economic and other fields.
Li said he accepted Prime Minister Turnbull's invitation to a match of Australian football in Sydney, but he would not pick side.
"I will behave as a faithful spectator and loudly cheer for whichever team that scores the goal," he said.
Xinhua News